For those who wants rescue remedy for your nails, here are introduction of some special products catering to your special needs. Of course I am not talking about those beautifying nail polishes...
1) Manicare's Stop That!
If you are looking for something to make you kick your nail-biting habits, get this instead of hot sauce. Available over-the-counter.
Features:
Non-toxic, bitter tasting formula.
Completely invisible on nail.
Safe to use on children over 3 years.
Water soluble solution. Non-glossy.

Formaldehyde and Toluene free.
Apply morning and night. Use at least 2 weeks.

2) Nail*It nail protector
Available over-the-counter. It uses plant extracts and other active ingredients to penetrate through the nail plate and reach the nail bed and nail root to maintain healthy & clear nails.
Claimed benefits:
Protects against infestation by micro organisms, like mushrooms, bacteria etc…
Positive treatment results medically proven
Readily penetrates plant based active ingredients to the nail root
Care for thickened, disfigured & brittle nails
Promotes hygienic, healthy & good-looking nails
No filing needed before application
Features:
Simple, topical application
Non-Greasy Non-Toxic
Clear solution base
Use at least 2 months for the improvements to be visible. The application should be continued for the complete renewal period of the nail. I.e. 6-8 months for fingernails and 8-12 months for toenails. Each pen is sufficient for approx. 300-400 applications for one big toenail. [
Source: IMEXLINK
]
3) Loceryl Nail Lacquer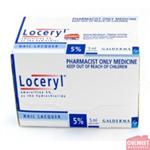 Creams and lotions are usually not effective against nail fungus because nails are too hard for these applications to penetrate.
De-regulated from POM to now Pharmacy item, Loceryl is a medicated nail lacquer proven for treating nail fungus. It contains the active ingredient amorolfine to kill the fungus. If more than 2 nails are involved, oral medications from doctor may be needed.
Usage:
The nail lacquer should be pplied once or twice a week. Each time you reapply the lacquer you should swap the nail to remove any old lacquer first and file the nail surface. Treatment should be continued without interruption until the nail is regenerated and the affected areas are cured. In general, treatment duration is 6 months for fingernails and 9-12 months for toenails.
Further details on procedures of use in
PIL
.
***